It's always inspiring to see two people fall in love, regardless of gender. That's exactly what we witnessed during Iea and Ia's wedding.
In the Philippines, there is no law yet for marriage equality for same-sex or LGBT+ couples. However, there are LGBT+ affirming churches, such as Open Table Metropolitan Community Church, who officiates weddings for same-sex or LGBT+ couples. It is called a "Holy Union" ceremony, which is purely a religious ritual and has no legal bearing.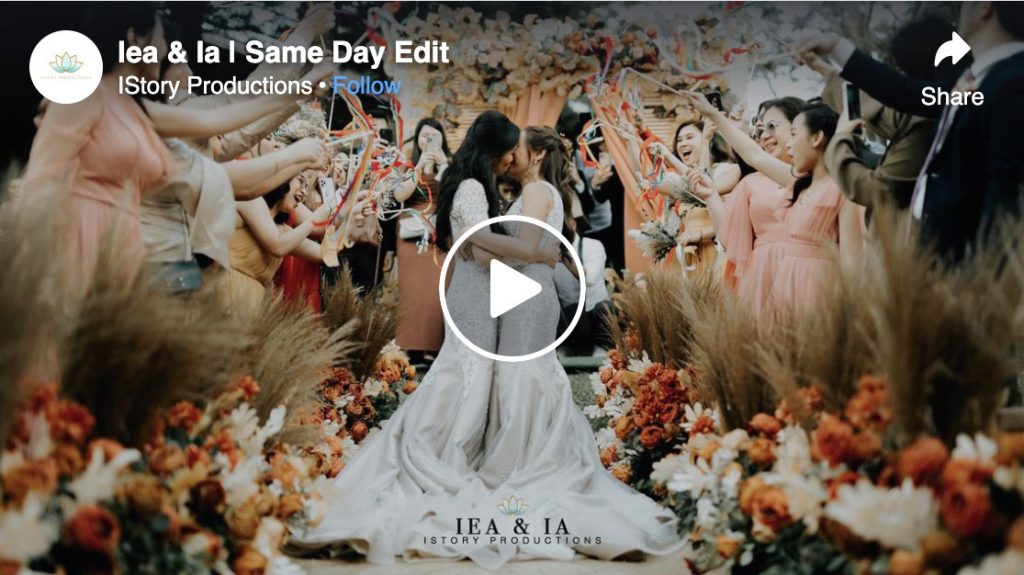 The couple also recently started their vlog channel on YouTube: Team Bubu.
Cheers and best wishes to the newlyweds, Iea and Ia! ?‍❤️‍?‍??️‍?❤️
---
Credits and special thanks to the following for the wedding ceremony: Coordinator: Events Embassy | Hmua(iea): Anne Garcia – Bridal Makeup Specialist | Hmua(ia): Makeup by Katrina Guzon | Band: Pia | Host: Ryan Tercero | Gowns: Rau Atelier Weddings | Entourage Gowns: Li Couture Atelier | Ceremony Stylist: Tipping Point Collective | Catering: k. by cunanan catering | Lights & Sounds: Artuz 101 Sound and Lights | String Lights: Pumpkeen | Led Wall: Mjb Pro Lights & Sounds | Bridal Florist: Dried AestheticEntourage Florist: thestalksmanila | Robes: Love, Marry Collections | Officiant: Open Table MCC – Metropolitan Community Church | Preps Venue: Miranda's Rest House | Ceremony & Reception: Ville Sommet Tagaytay